Blog
Making the Transition from England to the USA – Izzy Lane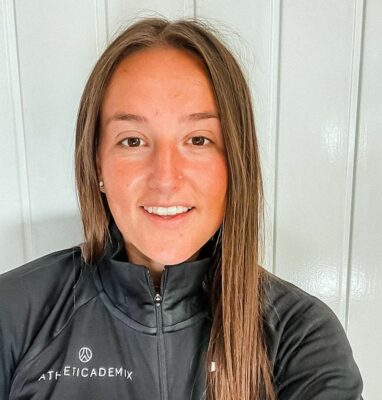 Daisy Simms
1 November, 2022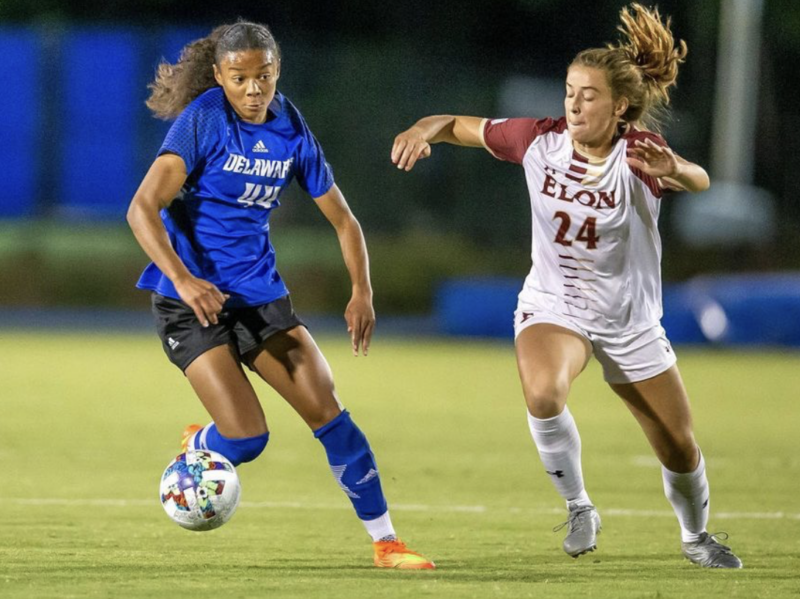 I caught up with Izzy Lane, one of our athletes who is currently in her first year at The University of Delaware (NCAA D1) on a soccer scholarship. Izzy is former Tottenham Hotspur Women winger, who joined our Athleticademix Family after attending our Winter Showcase event in 2020. Izzy began the process with us during year 12. This put her in a great position to go through the process in a timely manner, which resulted in some great options for her!
Izzy has just completed her Freshman season at Delaware. She has made an immediate impact and is a regular starter, getting on the scoresheet and racking up numerous assists. The close of the season saw Izzy awarded with a place on the Colonial Athletic Association "All Rookie Team". Essentially, this is a "team of the year" made up of first year students, across the whole conference!
I asked Izzy a handful of questions, which will give you an insight into why she chose to explore the US College Soccer route with us. In addition, she also reflects on her first year as a student-athlete!
1. Why did you decide to attend our showcase, and what did you get from the day? 
"Athleticademix reached out to me asking if I would like to learn more about the great opportunity to play in America. I hadn't given it much thought before, so I briefly talked with my family and decided it would be good to go to the showcase. The main reason was that it seemed like I would learn a lot about the process!
The day was enjoyable and started with a presentation explaining the opportunity, and how Athleticademix will help me and my family through the process. Additionally, I found it very cool that they had US College coaches fly in to watch the showcase, and talk to us individually after if they wanted to. I liked that, as it made it feel real and gave us a taste of what it's like in the States!"
2. Tell us about your first season!
"My first season at The University of Delaware has been amazing! I've made life long friendships from the day I arrived. I love the lifestyle out here. The facilities are great, and care given to every individual athlete is 10/10. At the start I was hesitant because I wasn't really into the school side of this experience. But academically they are always there to help so now with all the support I am enjoying life as a student-athlete! As well as this I've also noticed, that as an international, everyone is very nice and welcoming. After every game I receive hugs from my teammates' parents and have even been called family! I  haven't experienced any homesickness since I've been out here!!"
3. What have been the highlights of the first semester/season?
"The games come thick and fast, which took some adjusting to. However, I managed to get 5 assists this year and started every game! Additionally, my teammate and I earned a spot on the "Rookie of the Year" team which I was quite happy about!"
4. Are you looking forward to a well-earned break at Christmas!?
"Yes! I am excited to see my family again as it's been a while. In particular, I can't wait to see my little niece who is 2 and growing so fast! It will be nice to spend half of December and the whole of January at home as well as being able to see friends again, too."
5. Spring season is very different to Fall season. Tell us about what you're looking forward to going back after Christmas and experiencing a different side of life as a student-athlete!
"I can't wait for the spring semester! It is very different to Fall as there are less games, but that means we can go harder in the gym and training! I am excited to work hard and push my body athletically, to be stronger than I've ever been! Finally, I think it will be a good opportunity to build as a team, and a chance to really find out how we want to play in order to start the Fall season strong come August!"
It is always exciting to catch up with our athletes who are now in America! We can't wait to follow the rest of Izzy's journey as a student athlete.
Inspired to find our more about becoming a college athlete? Read more below!
How to Learn More
Fill in our Sports CV form if you'd like us to get in contact with you and provide more information. We'd love to hear from you!
Thanks for reading 🙂
Daisy
TEAM ATHLETICADEMIX