About Athleticademix
Athleticademix is ​​a sports scholarship consultancy and college recruitment service based in the UK and Sweden. David Fletcher is the company's UK Director, Daisy Simms is the Head of Soccer, and Robbie Farnham-Rose is the team's Track & Field Sports Consultant. The organisation's Swedish branch is headed up by co-Director, Robin Hals, and Andreas Agrell (Sports Consultant).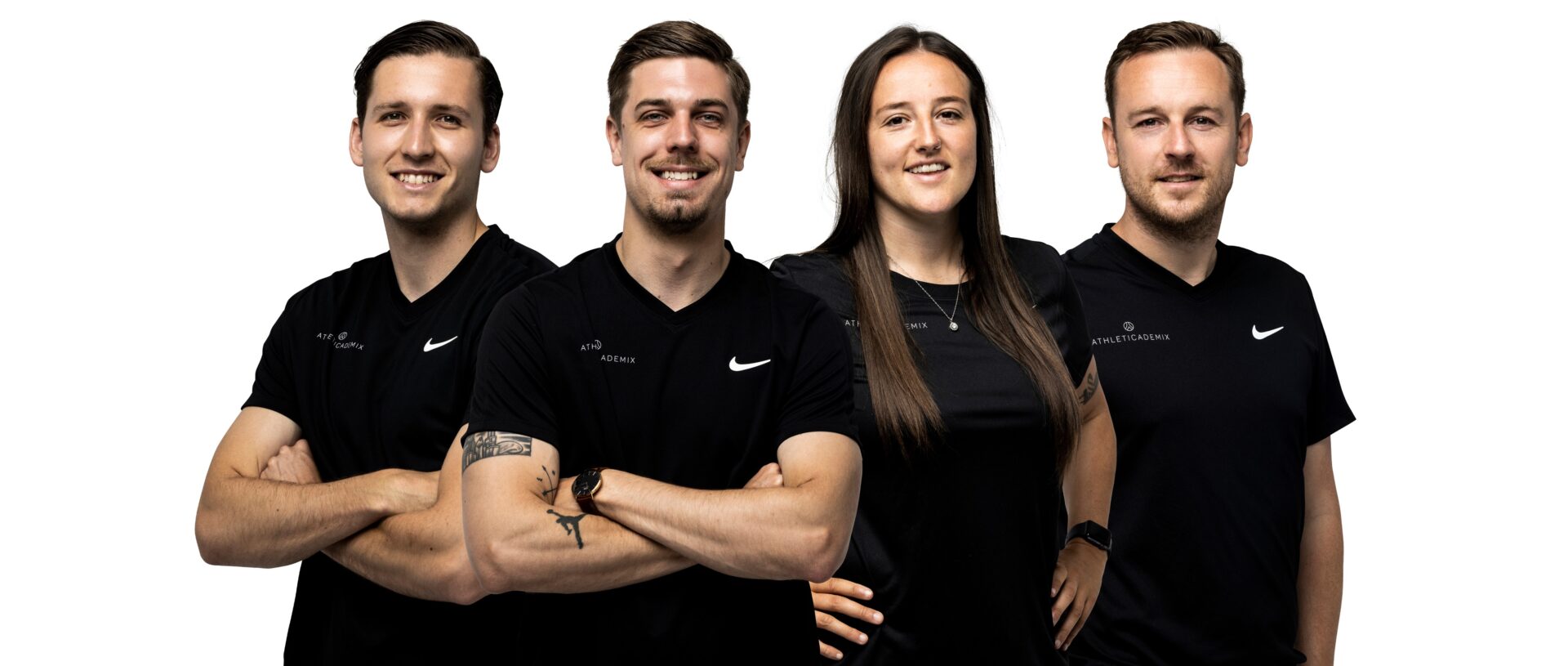 About Athleticademix – Meet the Team
Athleticademix was founded back in 2018 by David Fletcher and Robin Hals, following several years of the pair working within the College recruiting industry, elsewhere. Both David and Robin, in addition to Daisy, Robbie and Andreas who have since joined, are former College athletes and have all lived through the experience of competing and studying in America.
David Fletcher – Director, UK
Before founding Athleticademix, David attended Florida Southern College between 2008 and 2012 where he was recruited to join the Men's Soccer team in NCAA D2. During his 4-year college career, he was named team captain for three of those years. Concurrently, he earned a BA degree in Criminology in 2012.
Gaining comprehensive experience in the recruitment process, David then served as a Graduate Assistant coach with the St. John's University Men's Soccer team (NCAA D1) in New York City between 2012 and 2014. Whilst simultaneously earning his Master's degree in Sport Management from St. John's, he was part of a team that qualified for the NCAA National Tournament in both seasons he was involved. Moreover, as a Graduate Assistant, one of David's roles was to identify potential new players. For instance, this was achieved through attending recruiting events and reviewing video footage sent in by recruits from all over the world. Subsequently, he developed an extensive network of college coaching contacts and a thorough understanding of what they're looking for.
Athleticademix clients working with David will obtain access to an immeasurable amount of contacts and resources in the US, but most importantly will benefit from his personal guidance and experience.
Daisy Simms – Head of Soccer, UK
Daisy is originally from Portsmouth, England. She set off to America as a student-athlete in 2012, after spending most of her career in England playing for Portsmouth FC.
Daisy graduated from Delta State University (NCAA D2) in 2016, with a Bachelor of Science degree in Health, Physical Education and Recreation. After graduating, Daisy moved to Iowa to take up a coaching role at North Iowa Area Community College (NJCAA), where she spent a season as the Women's Assistant Coach before being named as Head Coach.
Daisy then opted to pursue her Master's Degree and moved to West Liberty University (NCAA D2), in West Virginia, where she was appointed as the Assistant Coach for Women's Soccer. In Spring 2020, upon completion of her Master's Degree in Organisational Leadership, Daisy returned back to England. Daisy took charge of Portsmouth FC Women Development Squad, and soon after began her role as a Sports Consultant at Athleticademix in September, 2020.
Athleticademix athletes have been able to benefit from Daisy's experience in the US and passion for assisting others follow the same pathway. She has been a fantastic addition to the staff and valued team member!
About Daisy:
Robbie Farnham-Rose – Track & Field Sports Consultant, UK
About Robbie:
Robin Hals – Director, Sweden
Likewise, the same services are offered by Athleticademix to Scandinavian student-athletes, which is where Director, Robin Hals is based. Having represented North Carolina Wesleyan College Men's Soccer for one year before moving to North Park University in Chicago, Robin graduated with a bachelor's degree in Business Management.
Andreas Agrell – Sports Consultant, Sweden
Andreas joined the team in July, 2021 and has been a fantastic addition to the organisation. He is also a former College athlete who served on the Men's Soccer team at Newman University in Kansas for four years.
Based in Uppsala, Sweden, Andreas works predominantly with male soccer players looking to head Stateside.
Additional Support Staff
Mark & Karen Scarbrow – Parent Advisers
Another crucial component to the Athleticademix service is the expertise and knowledge provided by Mark Scarbrow and Karen Scarbrow. Both have had children that have been student-athletes in the US. They are a fantastic resource for players and parents alike and offer first class advice and guidance throughout the recruitment process. Having worked in recruitment for more than 25 years, Mark's experience includes a stint with the Premier League as Chief Careers & Academics Adviser, where he assisted more than 100 players to the USA. In addition, a large number of student-athletes have been assisted as a result of Karen's expert administrative guidance since 2007.
In short, the team has has helped more than 400 student-athletes and placed them at universities all over America, including prestigious institutions such as Clemson University, Virginia Tech, LSU, Wake Forest and many more!