Sports at College
So, what competitive level can I expect in the US as a college athlete?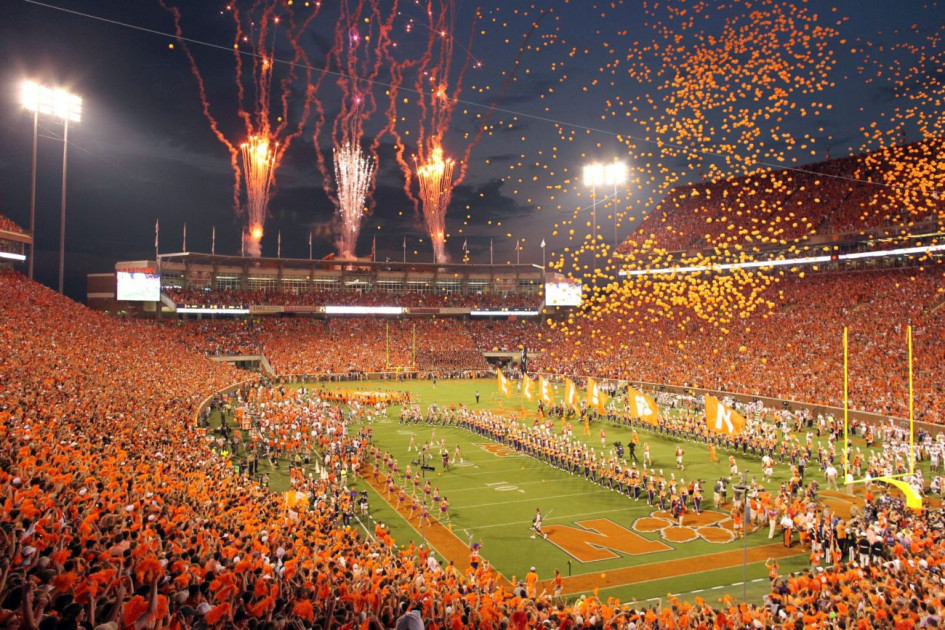 DEVELOPMENT
In all college sports in the US, you are placed in to an environment whereby you will have the best possible opportunity to succeed. The coaching staff and support staff around you will be of the highest quality. They are employed full-time to work towards optimizing you and your teammates' performance and, importantly, lead the team to win as many games/competitions as possible. They also have a vested interest in your personal development on and off the sports field. A coach will often fill more than one role and can also become your mentor, confidant and advisor.
DO I NEED TO HAVE PRO AMBITIONS?
No! It goes without saying that only a small number of college athletes make the grade to turn professional. But college in the US offers so much more than that! The entire experience is life-changing and something you will remember fondly for the rest of your life. Plus, you will be obtaining your degree, which you will have for life once you've earned it. This degree will help provide you with further career options beyond university, which may or may not be in the world of sport. Regardless, your experience will undoubtedly stand out to employers who recognize the commitment and discipline required to succeed as a student-athlete.
BUT WHAT IF I DO HAVE PROFESSIONAL ASPIRATIONS?
In the US, college sport is a rite of passage for any budding professional athlete. American stars from the NFL, NBA and MLS will attend college before being picked up by professional teams towards the end of their education. While it still remains incredibly tough to make it as a professional in any sport, the college environment provides those with the required talent and determination with a fantastic platform to potentially compete professionally in future.
The draft system in the US is where professional teams in different sports select from the very best college athletes. The players selected will be the most elite, as is the case anywhere else in the world, but they are not restricted to just US players. Many players from around the globe have profited from the US college system and now play as professionals either in the MLS, USL (US second tier) or in other leagues internationally.
HOW OFTEN WILL I TRAIN?
At all levels of college sport, you will train nearly every day of the week during the season. Even on rest days you will be expected to make sure you are getting treatment and keeping yourself in prime condition. The training facilities are exceptionally good and assist you in taking yourself to the next level. You will undoubtedly improve as a player and athlete at college in the US.
WHAT IS THE DIFFERENCE BETWEEN DIVISIONS AND ORGANIZATIONS?
There are a number of different divisions in the US college sports system. The NCAA has three divisions, D1, D2 and D3.
NCAA D1 is made up of larger schools (approximately 347) with more sports teams and generally more sports scholarship funding available. They also have high academic entry requirements, meaning that it is only the higher standard players with strong grades and test scores that will be considered at this level. A generic example of a D1 soccer player from the UK would be a former Premier League/EFL Academy player with 'A' and 'B' grades throughout school.
In D2 (made up of 312 schools), there is also sports and academic scholarship available, but not quite as much as there is in D1. Generally, D2 schools will be slightly smaller (2,000 – 10,000 students) but the sporting level is still very strong. An example would be a County/strong club level player with A-C grades throughout school.
D3 schools (made up of 442 schools) only offer academic scholarships and do not offer sports scholarships. It is less common that we tend to send students to D3 for financial reasons. However, the level is still competitive, and these institutions are very strong academically.
The NAIA is a separate organization from the NCAA but has 210 member schools. They all offer athletic and academic scholarship, and often compare similarly to the size and level of NCAA D2 institutions.
The NJCAA is a little different. Here, the member schools are known as 'Junior Colleges' which are 2-year schools. They are in place for student-athletes who may not initially make the grade (academically) to attend a 4-year college. Instead, students can attend a Junior College (JUCO) for two years, before switching to a 4-year college for the final two years. So, the four-year schedule does not change and you can still earn your degree!
It is worth noting that student-athletes should not get too hung up on what division they play in. Athleticademix consultants will give you the best advice possible based on their expert advice, but what matters most is that the college you choose has everything you want from this amazing opportunity.
DIFFERENT SEASONS IN COLLEGE SPORTS?
Colleges offer different sports, all of which have established times of the year in which they compete in their main season. Here's a list below:
Fall (Autumn) – August to November
Cross Country
Field Hockey
American Football
Soccer
Volleyball (Indoor)
Water Polo
Winter – September to March
Basketball
Bowling
Fencing
Field Hockey
Gymnastics
Ice Hockey
Skiing
Swimming
Track & Field (Indoors)
Wrestling
Spring – January to May
Baseball
Softball
Golf
Lacrosse
Rowing
Tennis
Athletics (Outdoors)
Volleyball (Beach)