Tennis at College
College Tennis is very popular in the USA! The structure and point system differ slightly to what most players around the world are used to. Below we will explain the differences so you can understand what to expect!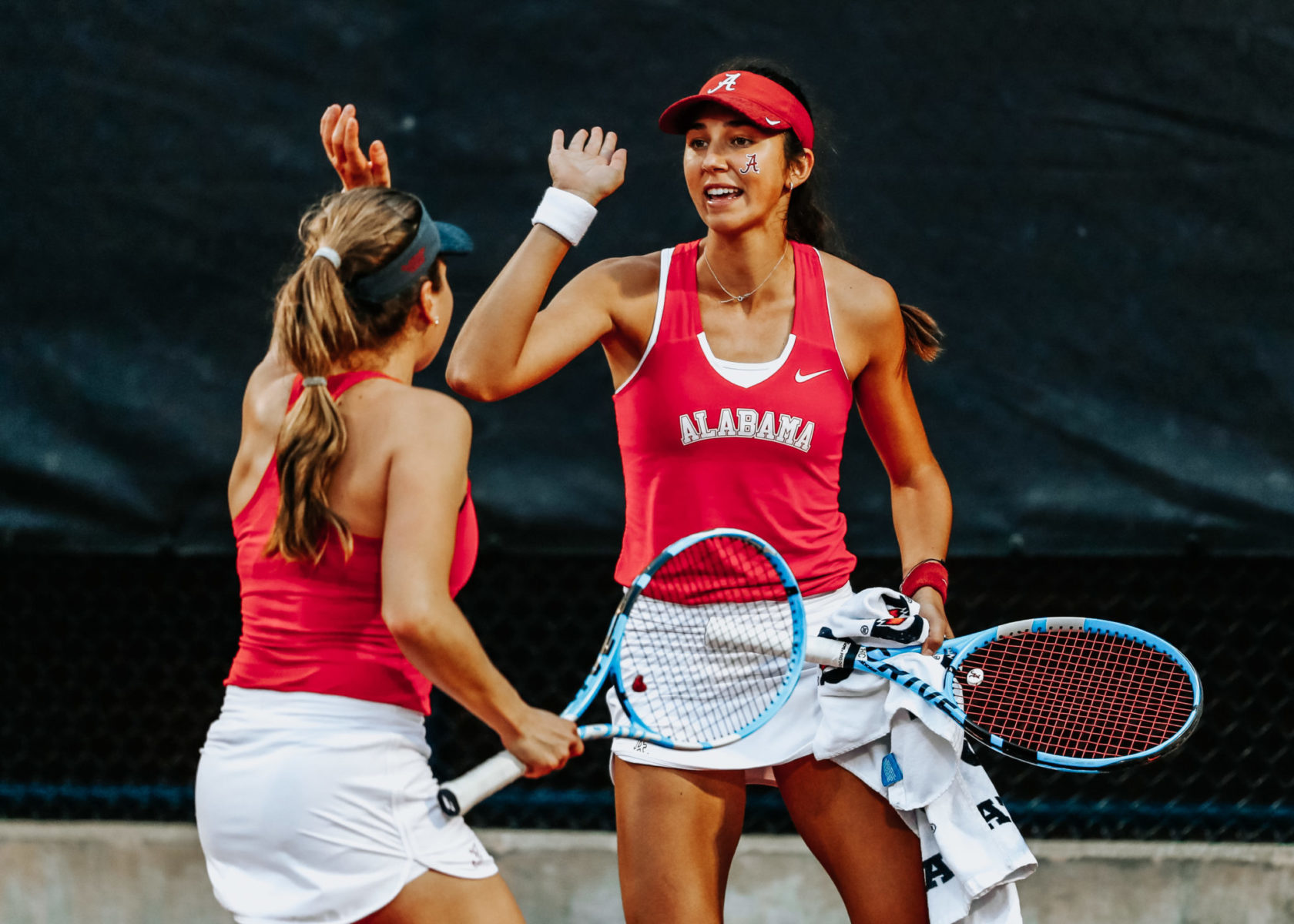 COMPETITIVE STRUCTURE
All divisions compete in different ways, so we will break down how teams compete in NCAA D1.
For each fixture, a coach selects 6 players from a squad of approximately 11 that will contend with an opposing college tennis team. The 6 players will represent the school in 9 different matches. First, there is 3 separate doubles matches, followed by 6 individual singles matches. So, each player will take part in a doubles and a singles match during the fixture!
The doubles matches are played in only 1 set and there is no "advantage" points in college tennis, meaning that it is the first to four points (in other words, there is no advantage point after deuce).
The singles games are a best of 3 sets, but also have no "advantage" points following deuce. First to 4 points wins each game during a set.
The college team that wins at least 2 of the possible 3 doubles matches is awarded 1 point. Then, during singles matches, 1 point is awarded to the winning college of each individual contest. Therefore, the maximum score a college can earn in one fixture is 7 points.
WHEN IS THE SEASON?
College Tennis is a Spring sport! The official tennis season begins in January and the National Playoffs start in May, ending later that month.
To find out more on how the academic calendar looks, you can read more information about the academic system.
HOW MUCH SCHOLARSHIP IS AVAILABLE AND HOW MANY SCHOOLS HAVE TENNIS PROGRAMS?
There are different rules regarding scholarship depending on the division or organization that your school competes in:
314 schools in NCAA D1 offer tennis. They can award up to 8.0 scholarships to the women's program and 4.5 scholarships to the men's program.
227 schools in NCAA D2 offer tennis. They can award up to 6.4 scholarships to women's programs and 4.5 scholarships to the men's program.
250 schools in NCAA D3 offer tennis. They do not award sports scholarships, only academic scholarships.
112 schools in NAIA offer tennis. They can award up to 5.0 scholarships to both women's and men's programs.
To sum up, college tennis has approximately 900 programs across the USA! Most college tennis teams will consist of 11 or 12 players per gender. There is a level for everyone!
If you are curious to see how the scholarships can differ between sports, or how a scholarship actually works, then read more on this page about scholarships at college.
HOW DOES TENNIS RECRUITMENT DIFFER FROM THE OTHER COLLEGE SPORTS?
The general rule in college is that you can take a gap year before starting your studies in the USA. So, for most UK students, you can finish studying A-Levels/BTech/Advanced Highers (Scotland) at age 18 and then go to university in the US. Or, you have the option of delaying this one year and going the following year when you turn 19 years of age. This is the case for most sports but not tennis!
If you want to compete in NCAA D2, NCAA D3 or NAIA, it's still okay to take a full gap year. However, if you intend to become part of a tennis program within NCAA D1, you will only be able to arrive in the US up to 6 months after completing your A-levels/B-Tech/Advanced Highers (Scotland) – which is usually the following January. Definitely something to consider when planning your college adventure!
In tennis, it can be common for some players to earn prize money for winning tournaments. College sport in the US is strictly amateur and prospective student-athletes are prohibited from receiving any money except for funds that cover expenses. In tennis, it is difficult to identify an athlete's needs and expenses as each player is different. Therefore, the governing bodies in the US have set $10,000 as a maximum amount that any tennis player must not have received more than. If you have accumulated more than this amount in one year, you will not be eligible to compete at college in the US.
THE COLLEGE TENNIS SEASON
The tennis season is very similar to other team sports in the US college system, i.e. you compete against other schools head-to-head during the regular season and a win/loss record is established for each team. Below we are using Florida International University Tennis as an example:
Florida International University (FIU) is a member school of NCAA D1, which contains 314 teams in total. Within NCAA D1, FIU is part of a league called "Conference USA" along with 13 other teams. Every year, FIU will compete against the 13 schools (once each) in Conference USA. Once all teams have faced off against each other, the win/loss record is finalised in a league table.
The 8 top ranked teams from the 14 will qualify for the "Conference Championship". This is the playoff phase for that particular conference. The team that finished 1st is drawn against the 8th placed team, 2nd versus 7th and so on. It begins with the quarter-finals, followed by those that progress to the semi-finals and then a winner is crowned "Conference Champions" when they win in the final. The winning team receive a spot in the "National Tournament". A total of 64 teams will move on to the National Tournament, and  32 of those places go directly to the teams that win their respective conference championships all over the country.
NON-CONFERENCE GAMES
But wait, do you always compete against the same teams every year? And, who fills the remaining 32 places in the National Tournament? We understand this can seem a little confusing, but stick with us!
Each year you will always face the same teams in your conference (approximately 10-15 matches a year).
However, every year you will play around 6-8 games that are against teams from outside of your conference; known as "Non-Conference" games. These opponents will change from year to year and the coaches arrange and schedule who your team will face a year in advance! You will therefore have the chance to take on many different teams during your time in the United States!
WHY DO YOU PLAY MATCHES OUTSIDE OF THE CONFERENCE? IS IT A TRAINING MATCH? 
No, that's where the other 32 places up for grabs in the National Tournament come in to play. When all conference champions have been crowned and the first 32 spots are filled, the remaining 32 places are decided by which teams have the best win/loss record from non-conference fixtures. The strength of the opponents faced will always be considered at this point, too, which is why coaches try to arrange matches against reputable teams so that any wins they get receive more credit in the national rankings. The national rankings are updated on a weekly basis and this is done by a voting system that college coaches take part in.
From the final national rankings, the top 32 teams (outside of the 32 conference champions) are then determined and those teams make up the total 64-team National Tournament.
The National Tournament is a knockout competition. The 64 teams go down to 32, then 16, then 8, then 4 and 2 teams reach the National Championship match where one will be crowned "National Champion".
Click and watch videos from the national championship here to get a better feel for college tennis!